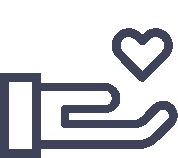 Investing into our Future
'Zelophehad's daughters make a good point. They're right, so do as they ask. Give them their legacy…'
- Numbers 27: 7
Legacy Giving is not giving TO a church but THROUGH a church into the future of the city, the future generations, the future kingdom come. Financial giving can be divided into two categories: tithes and offerings. The Bible teaches us that we worship the Lord with our tithe, which is ten percent of our income contributed to the church on a regular basis. When we feel called to give over and above our tithe, we do so as an offering.
What is the Resurgent Legacy?
The Resurgent Legacy is a giving ministry open to everyone who is willing to commit above
their regular giving into the endeavours that focus on Resurgent's future here in our city,
nation and beyond.
We are mindful of our mission "that none should perish!" (2 Peter 3:9) and we sense the immediate need to continue reinvesting this finance into the missional opportunities for Resurgent Church right here in Montreal.

1. Future Young Adult, Youth, Kids and Family events – to raise and release the
next generation.
2. Future Church Launches in our city – where we can extend the reach of our
growing vision for Montreal.
3. Future Mid-Week Buildings – where we gather to empower and equip the
believers for ministry.
Eternal One says
'Write down this vision.
Write it clearly on tablets, so that anyone who reads it may run'
- Habakkuk 2:2
"Again, I give you an eternal truth: If two of you agree to ask God for something in a symphony of prayer, my heavenly Father will do it for you. For wherever two or three come together in honor of my name, I am right there with them!"
- Matthew 18: 19-20
sUBMIT a PRAISE REPORT
OR ASK FOR PRAYERS!
​
We believe in the power of standing together in prayer, and joining to celebrate breakthrough! Simply fill out the form below to let us know in what way we can serve you!
Joining the Legacy Ministry as a Legacy Partner can begin at any amount across the year. For some people, this commitment above their regular giving will feel sacrificial, but we would love to encourage you to prayerfully consider beginning here, stretching and believing God to provide in ways that see you fulfill your pledge across the year.
For others you may be one of the individuals or families that God stirs your heart for $5000, $10000, $20000 or more according to your faith and capacity to give. There is no such thing as equal giving, but only a unified spirit of equal sacrifice.
​
Jesus is building His Church, He is using every one of us. As a new church we have already accomplished so much, but this Legacy Ministry builds a foundation for our future.
"Because I have set my heart on the house of my God, I have given to the house of my God, over and above all that I have prepared for the holy house...Who among you is ready and willing to join in the giving?"
- 1 Chronicles 29:3-6
We are a movement of people co-labouring with Jesus to revive hearts, reform culture and renew nations.
We have great vision for our future.
Below is some more detail of our model, our method and our missional dreams for the future.

1. Our Model
In Montreal we see at least five Resurgent Church locations: North, South, East, West and Central gathering in Innovation Conference Centres (a state of the art building that gives profitable rental opportunities for conferences and seminars for the city) so that the space is not wasted midweek. Throughout Quebec we believe that there are some key locations to plant Resurgent Churches in partnership with our movement. We are also believing to raise and release church planters into at least 20 locations around the world.

2. Our mid-week space (RHUBS)
Our short-term model whilst we are still growing a strong foundation is to rent all our Sunday Service facilities as better stewardship than the millions of dollars it will cost to purchase a building. The more achievable goal, to begin with, would be to find a midweek space in each location where we plan to presence Resurgent Church. This mid-week hub would begin to feel like a 'second home' for our church and our communities we are positioned in. In these RHubs we see:
- Family Ministry and Support Services
- Youth/Young Adult Services and Support Services
- Music and Creative Arts School
- Incubator Space for Entrepreneurs
- Healing and Prayer Rooms
- Team Meetings and Mid-week services for spiritual growth and training for ministry
(attached to our online Training School for scalability)

3. R-Retreat
A generational Campsite for the families of our church, the Youth to get away, Young Adults'retreats, and a Prayer Tower for our community to go and encounter the presence of God.

4. Internship/Discipleship building and live-in church planting school
A location that is accessible from all five future churches across our city.
Therefore I thought it necessary to exhort the brethren to go to you ahead
of time, and prepare your generous gift beforehand, which you had previously promised, that it may be ready as a matter of generosity and not as a grudging obligation. But this I say: He who sows sparingly will also reap sparingly, and he who sows bountifully will also reap bountifully. So let each one give as he purposes in his heart, not grudgingly or of necessity; for God loves a cheerful giver. And God is able to make all grace
abound toward you, that you, always having all sufficiency in all things, may have an abundance for every good work.
2 Corinthians 9:5-8
YOUR GIVING IS LED BY GOD
We believe in the power of equal sacrifice but not equal giving.
Where everyone can play their part as the Holy Spirit leads them.
That God will maximize our effectiveness as we co-labor with Jesus to revive hearts, reform culture and renew nations.
You can commit and give throughout the whole year
to Legacy Ministry. If you are new to Resurgent Church
we invite you to consider joining this ministry as one of
your Next Steps on your spiritual journey.
As God leads you. This is about dreaming together
about the future and seeing those dreams become
a reality both in the life of your church and your own
lives.
We connect across the year for dinners, meetings with
Guest Ministry, small groups, a retreat and time with our
Lead Pastors for the purpose of building relationships
with like-spirited people building the House of God in
this way.
Add bold faith and hopeful expectation to your
sacrifice. Jesus loves when we ask of Him in faith.
God isn't late with his promise as some measure lateness. He is restraining himself on account of you, holding back the End because he doesn't want anyone lost. He's giving everyone space and time to change.
2 Peter 3:9